HES-SO Valais-Wallis
You are here
Industry presence
BioAlps database
HES-SO Valais-Wallis
The School of Engineering of the HES-SO Valais-Wallis develops its activities of applied Research and Development (aR&D) within two institutes. Their projects aim to permanently update the education and to support the transfer and the exchange of competences:

The Institute of Systems Engineering has specialist skills in the combination of technological expertise to develop products. Among its partners are SMEs, national and international companies in the fields of electricity, mechanics, industrial production, life sciences and health. With its 85 qualified and experienced staff, the Institute carries out a large number of applied research and development projects every year and offers a wide range of services and continuing education courses.

The activities of the Institute of Life Technologies include applied research and development, services and continuing education courses. Our partners are SMEs and multinationals from the pharmaceutical, biotech, diagnostics, food, cosmetic and chemical industry sectors. Our team of approx. 70 professors, scientific and technical staff members carry out a large number of research projects every year. They provide a wide range of services and consultancy that fulfill the highest quality requirements.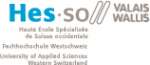 Domain:
Academic Institution
Contact:
POB 2134, Rte. du Rawyl 47
1950 Sion 2 / VS
P: 027 606 85 11
F: 027 606 85 15

http://www.hevs.ch